Slayaway Camp
---
The review of the summer horror blockbuster smash hit of 1984.
Welcome to Slayaway Camp. Possibly the bloodies puzzle game you will ever play!
Slayaway Camp is a dark comedic indie puzzle game that pays homage to the classic horror movies of the 1980s.
At first glance this game looks pretty cheesy, and it absolutely is just that. Would you have it any other way horror fans? You can't let appearances fool you though. It is feature rich with everything you could possibly expect from a indie horror game tribute.
The story takes place at Camp Slayaway in 1984. You play as a serial killer by the name of Skullface, who is modeled after the most iconic slasher in horror movie history, Jason Voorhees. Like Jason, Skullface has grown an unquenchable thirst for camp counselor blood.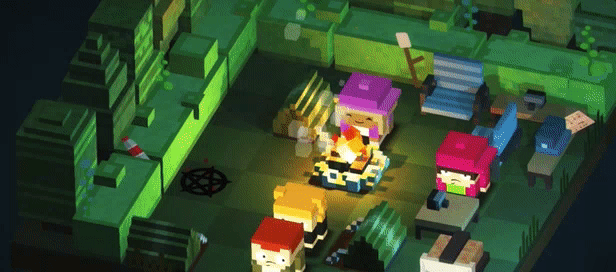 The goal is to strategically slide Skullface around the campground styled boards to kill all of the camp counselors. With some murders you unlock a gory cut-scene, which is probably my favorite part of the game. Blocky indie voxel game characters look so cute and innocent. Watching Skullface slaughter them is hilarious.
The makers of Bejewled, Blue Wizard Digital Ltd. did a fantastic job of covering all of the bases with this tribute to classic horror movies. There are 10 video tapes to unlock as you play, over 200 levels, multiple unlockable psycho killers, and much more.
But wait, this game gets even cooler. It stars Mark Meer (Cdr. Shepard from Mass Effect) as Skullface and Derek Mears (Jason from Friday the 13th) as Jessica. Genuine hair-metal soundtrack by legendary Canadian group GNÜ TRUNTION.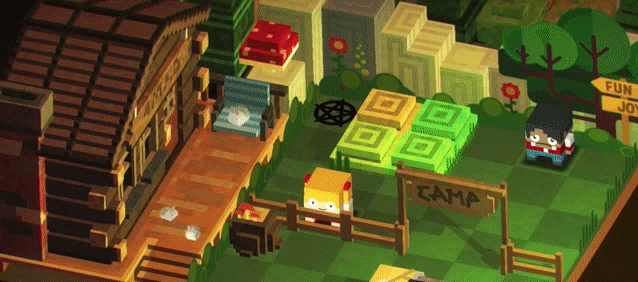 I've had my eye on this goretastic tribute to 80's horror movies since it launched just before Halloween last year. After finally getting to play it I am not disappointed. This indie gem exceeded my expectations.
This game is perfect for nostalgic horror fans. Normally I'm not that into strategic puzzle games. I tend to get stuck and quit. The simple mechanics make it pretty easy to progress, so I think just about any gamer who is into horror films can enjoy this one.
The stages do get progressively harder as you progress, but not to the point where you want to rage quit. Most levels just require thinking a few moves ahead like chess. I find when I'm enjoying a game I'm less likely to give up. Most puzzle games are so dull and boring. Definitely not the case here, I couldn't wait to see what happens next.
I give this game an overwhelmingly positive rating, and highly recommend it. If your a gamer and a fan of horror classics this is a must play.

Article Source – Steam
Featured Image Source – Markiplier