PIRATES: TREASURE HUNTERS
Introduction
Pirates: Treasure Hunters is a Free-to-Play MOBA where the action dominates the course of battles through a dynamic and direct character control. Choose from a broad range of Hunters, each one equipped with unique weapons and skills. Take them to battle and face the opposing team in exciting online matches for up to 6vs6 players. Use cooperative vehicles to destroy your opponents and claim victory. Show that you are up to the challenge.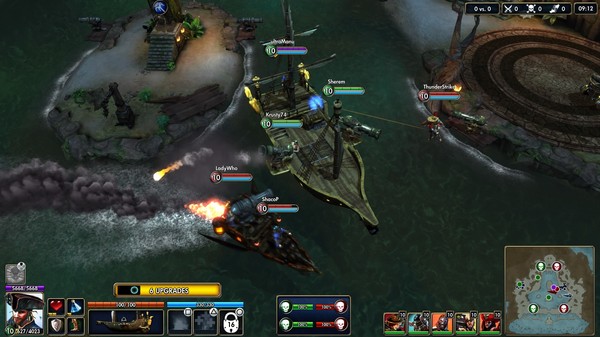 GAMEPLAY
Competitive Online Battles
The action in Pirates: Treasure Hunters takes place in the competitive online multiplayer matches. Two teams of up to 6 players each fight to achieve a series of objectives, like destroying the Totems and the Bastion of the enemy, or conquering Domination Points to surpass the rival. All of this with action packed fights making use of the Hunters' weapons and skills (the Hunters are the characters the game offers).
Hunters
Choose your Hunter from a broad selection of unique characters. From buccaneers and soldiers to mages and priests, through tribal warlords, inventors, swordsmen and more mysterious characters each one with a set of personal weapons and skills. Discover which Hunter fits your style and together conquer the enemy.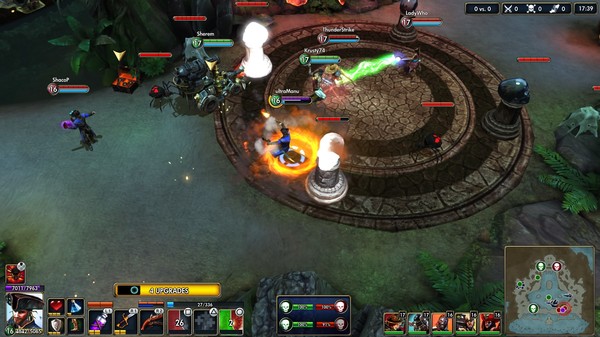 Vehicles and mobility
To claim the victory you can use the cooperative vehicles with one player driving and the other shooting from the cannons or machine guns causing mayhem among the enemies. There are vehicles for land and sea, although they aren't the only way to traverse the map. Other resources come in the form of grappling hooks or retractable bridges that open a wide variety of possibilities to create genuine situations where the skill and wit of the players can shine.
Theme
Set in a fantastic universe with strong roots in the pirate flourish period, Pirates: Treasure Hunters assemble a wide variety of characters of very different origins. The depiction of this universe is made through a style that reinterprets the stories and adventures set in the age of galleons and buccaneers, and broadens them with magic, machinery and characters with a unique background, in order to create a rich and diverse world. In this way the game, without losing its focus on action, offers the players eager for lore and stories a reason to approach the game.

Progression
In Pirates: Treasure Hunters all the core content can be unlocked with the currency obtained by just playing matches. The players can make their accounts progress by leveling up and unlocking characters, and also obtain amulets to enhance some specific characteristics. Just the Outfits (cosmetic alternatives for the Hunters' looks) and temporary XP and currency boosts are obtained only by making online purchases. Everything that has a direct effect in the battles is completely accessible to everyone.