Final Fantasy Tactics is a tactical role-playing game developed and published by Square (now Square Enix) for the Sony PlayStation video game console. It is the first game of the Final Fantasy Tactics series and was released in Japan in June 1997 and in the United States in January 1998. The game combines thematic elements of the Final Fantasy video game series with a game engine and battle system unlike those previously seen in the franchise. In contrast to other 32-bit era Final Fantasy titles, Final Fantasy Tactics uses a 3D, isometric, rotatable playing field, with bitmap sprite characters.
Final Fantasy Tactics is set in a fictional medieval-inspired kingdom called Ivalice created by Yasumi Matsuno. The game's story follows Ramza Beoulve, a highborn cadet who finds himself thrust into the middle of an intricate military conflict known as The Lion War, where two opposing noble factions are coveting the throne of the kingdom. As the story progresses, Ramza and his allies discover a sinister plot behind the war.
Vid Source - David Livermore
A spinoff title, Final Fantasy Tactics Advance, was released for the Nintendo Game Boy Advance in 2003 and a sequel to that title, Final Fantasy Tactics A2: Grimoire of the Rift, was released in 2007 for the Nintendo DS. Various other games have also utilized the Ivalice setting, including Vagrant Story for the PlayStation and Final Fantasy XII for the PlayStation 2. An enhanced port of Final Fantasy Tactics, Final Fantasy Tactics: The War of the Lions, was released in 2007 as part of Square Enix's Ivalice Alliance project. Overall, the game received positive reviews from gaming magazines and websites and has become a cult classic since its release.
Gameplay
The gameplay of Final Fantasy Tactics differs in several key areas from other titles in the Final Fantasy series. Instead of a generic battle screen, with the player's characters on one side and the enemies on the other, encounters take place on three-dimensional, isometric fields. Characters move on a battlefield composed of square tiles; movement and action ranges are determined by the character's statistics and job class. Battles are turn-based; a unit may act when its CT (Charge Time) reaches 100. Charge time is increased once every CT unit (a measure of time in battles) by an amount equal to the unit's speed statistic. When CT reaches 100 or greater, the unit may act. During battle, whenever a unit performs an action successfully, it gains Experience Points (EXP) and Job Points (JP).
Another difference is the manner in which random battles are encountered. Like other Final Fantasy games, random battles occur on the world map. However, in Final Fantasy Tactics, random battles only occur in pre-set locations, marked in green on the world map. Passing over one of these spots may result in a random encounter. Another major aspect of battles is magical attacks. Certain magical attacks cause area of effect damage, and many of the more powerful magical attacks require several turns of charging. Hit Points of enemy units are also visible to the player (except in the case of certain bosses), allowing the player to know exactly how much damage they still have to inflict on a particular unit.
Movement on the world map is limited to predefined paths connecting the towns and battle points. When the character icon is over a town, a menu can be opened with several options: "Bar" for taking sidequest job offers, "Shop" for buying supplies and equipment, and "Soldier Office" for recruiting new characters. Later in the game, some towns contain "Fur Shops" for obtaining items by way of poaching monsters.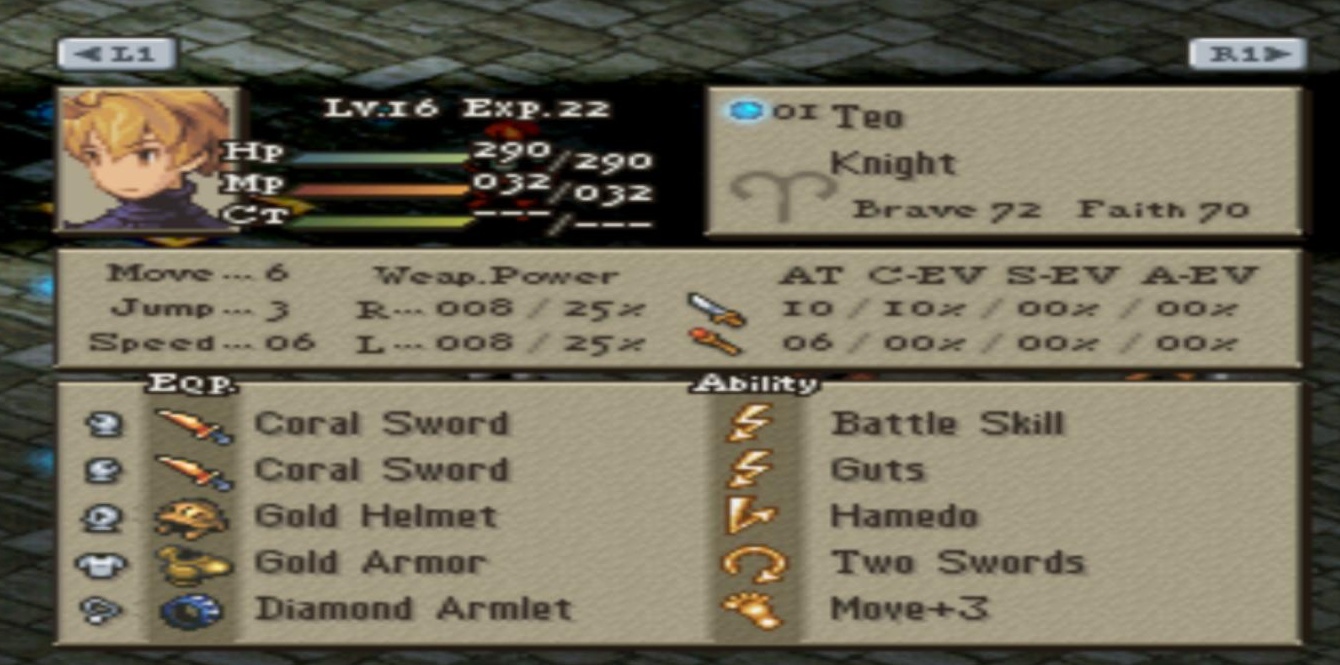 Like several installments in the series, Final Fantasy Tactics features a character class system, which allows players to customize characters into various roles. The game makes extensive use of most of the original character classes seen in earlier Final Fantasy games, including Summoners, Wizards (Black Mages), Priests (White Mages), Monks, Lancers (Dragoons), and Thieves. New recruits start out as either a Squire or a Chemist, the base classes for warrior and magician jobs, respectively. The game features twenty jobs accessible by normal characters.
Throughout the game, unique characters also join the party. As well, some characters join as "guests", which are computer controlled characters that fight on your side. Many of the unique characters have custom classes that replace the base squire class. It's also possible to recruit monsters into the party. Monsters have unique abilities, but cannot change jobs. Monsters can be captured from battles or bred from existing monsters.
In battle, JP are rewarded for every successful action. JP are used to learn new abilities within each job class. Accumulating enough JP results in a job level up; new jobs are unlocked by attaining a certain level in the current job class (for instance, to become a Priest or Wizard, the unit must first attain Job Level 2 as a Chemist), which also allows the character to gain more JP in that class in battles. Once all the abilities of a job class have been learned, the class is "Mastered". A soldier in a specific Job always has its innate skill equipped (Wizards always have "Black Magic," Knights always have "Battle Skill") but a second job-skill slot and several other ability slots (Reaction, Support, and Movement) can be filled with any skill the particular soldier has learned.
Happy 18th Anniversary FF Tactics!